Kratom Leaf – Buy Raw Fresh American Kratom Leaf
Here is a video on the lengths we take to bring Fresh Organic American Kratom leaf to your door.
Special Pricing Notice!!!
Our nursery is currently recovering from winter. Due too to much demand, we have had to increase the pricing of our fresh leaf to allow our nursery to recover. We will be dropping the price again in June, possibly sooner.
Buy Raw Fresh American Kratom Leaf
Raw Fresh American Kratom Leaf – Our finest product is our whole kratom leaf that is grown in naturally in the USA. Each leaf is picked to ship, for freshness we recommend you select 2 day shipping. Your leaf will keep for around eight days in the fridge or 3 – 4 days at room temperature in a sealed bag. Can be air dried to preserve the leaf at which point it can be stored like your typical leaf or powder. Whole kratom leaf is only available when the trees are flowering, and all of our leaf is picked from trees varying in age from 4 – 12 years old. We are the only kratom vendor online that offers fresh leaf from fully mature kratom trees.
How is fresh raw kratom leaf  traditionally eaten?
Traditionally fresh raw kratom leaf is chewed orally. We recommend you try starting with 3-5 leaf. This is about equivalent to 3-5 grams of powder. As one average sized leaf is about equal to 1 gram of powder.
Kratom – The sweet treat of Indonesia
When the natives in South East Asia are sick with a sore throat they will go out in the fields and pick some fresh leaf off of the trees. Placing some sugar in the center and then chew on the leaf. When they chew the leaf the sugar mixes with the fresh leaf  and becomes sort of like a tasty paste. This paste will retain its sweet taste all the way through. This helps relieve sore your throat and makes the day much more bearable. Below we have written a guide to show you how.
How do you de-veining kratom leaf?
What is de-veining? De-veining is taking the main stem that runs thru the kratom leaf and extracting the vein out of the leaf. Some users find that the vein is chewy and does not break down as easily while chewing. It is recommended as a alternative if you find it difficult.
How to brewing kratom tea with fresh kratom leaf
Step 1: Prepare your pot and water. Bring a pot of water simmering boil.
Step 2: While your pot reaches tempature. Chop up 30 fresh kratom leaf.
Step 3: Once your pot is at a simmering boil add your fresh leaf to the pot.
Step 4: Add 4 table spoons of lemon juice
Step 5: Boil your leaf for 35 minutes.
Step 6: Enjoy 🙂
But wait! Do not throw out the leaf yet! You can reuse that leaf to make another pot or two.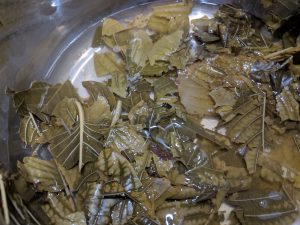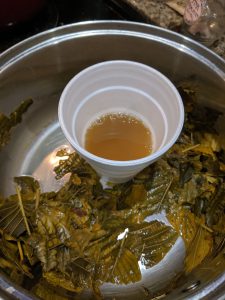 What are kratom vein colors?
The color of a kratom vein are determined by the content of mitragynine (alkaloids) in the vein. The purpose of producing mitragyna is to protect the tree from insects and animals from eating the leaf. It's also a stress mechanism. The mitragyna is why the leaf is so bitter and correlates to strength. Strength also correlates to how mature the leaf is. The more mature the leaf the stronger it will be. When mature leaves mature the alkaloids are sucked back into the tree through the veins. These leaves will look more yellow. 
In winter you see mostly white and green with some red. Spring, mostly green, white, some red, with pink starting to show up. In summer, Seed pod are poping up, you see green, white, pink, red, purple. This continues to happens thru Fall. We should note seed pods are best to pick off the tree in Jan – April. Kratom Vein colors usually have its darkest vein color at the exterior of the plant. Getting lighter as you go inward. But is harder to see in summer – fall as all colors are on the tree. The Kratom Bible is also available here on the #kratomAPP
Red Vein Kratom Leaf
The more alkaloids in the vein. The more red the vein will be. Purple at the high end of alkaloids. White at the low end of alkaloids. It is possible to see all vein colors grow at the same time on the same tree. (pink,red, purple) more near the bottom as that is where they have roots as that's where most of the nutrients are. Up the tree will be more (greens and whites). They start getting more color variation the larger they get.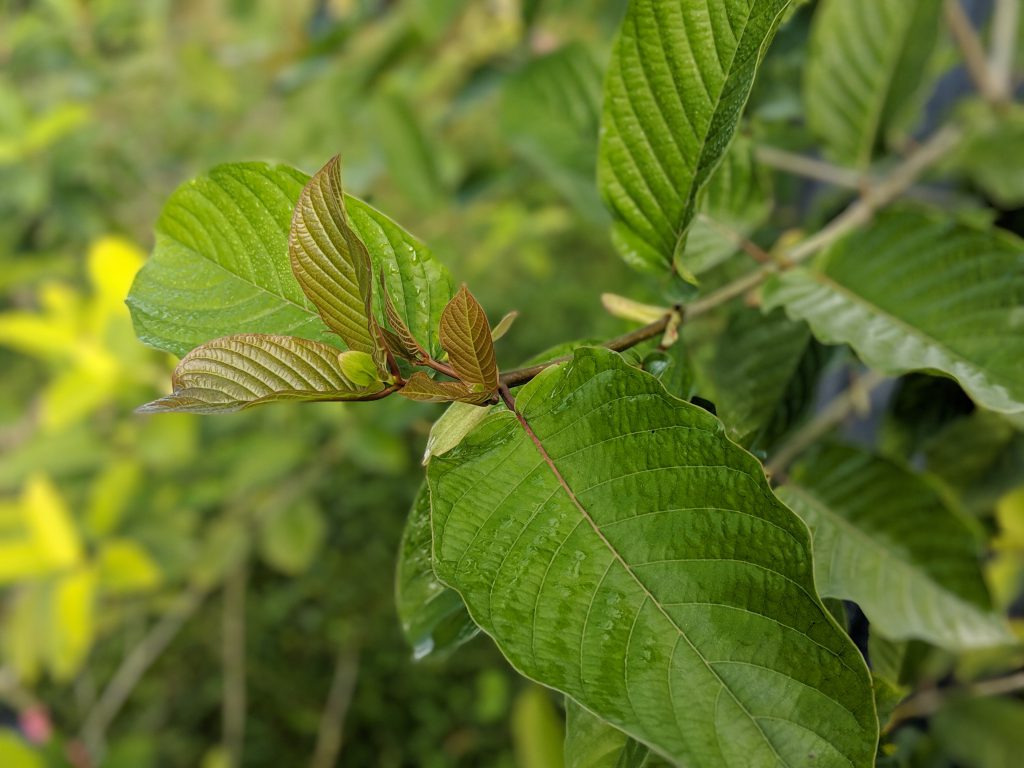 Pink Vein Kratom Leaf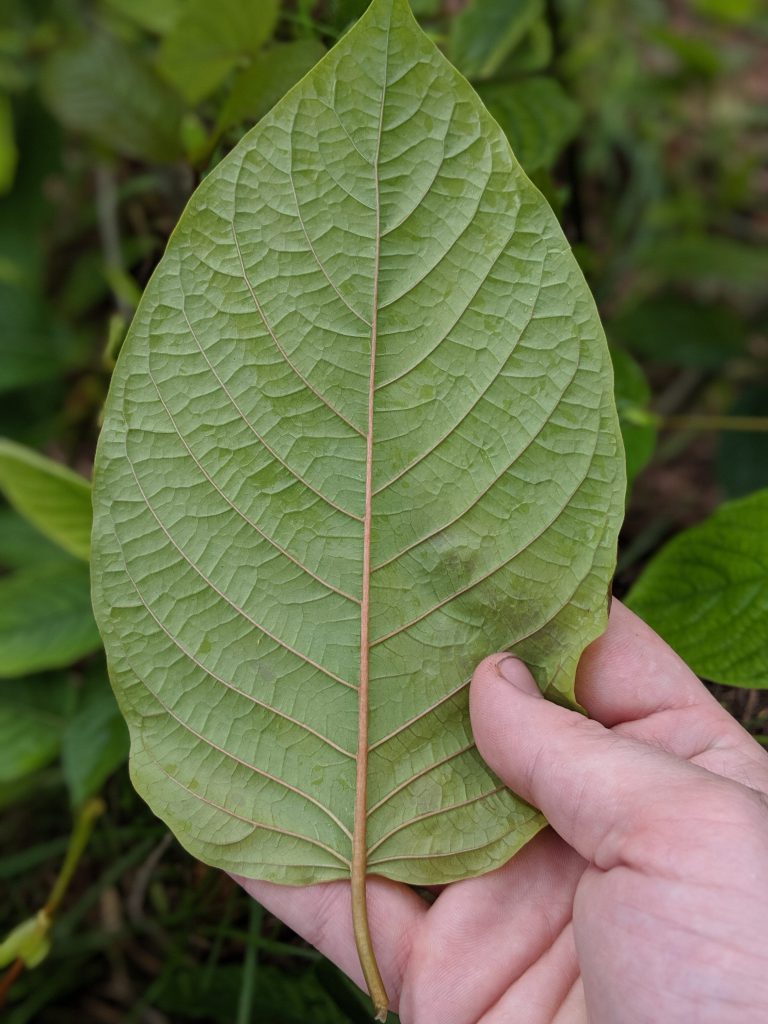 Green Vein Kratom Leaf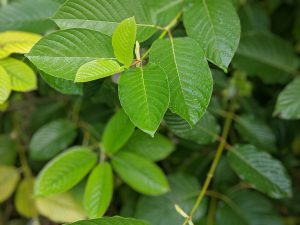 White Vein Kratom Leaf
What does a mature kratom leaf look like?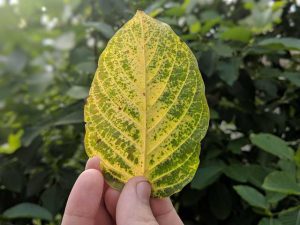 How do you ship fresh kratom leaf in the mail?
How long should I expect Shipping to take?
All Kratom leaf will only ship out Monday – Wednesday. Customers can select either 2 -day Priority USPS Mail or expedited Shipping. Our friendly staff members will ship out your normally  by 2 pm. Each order will receive a notification and tracking number once the order goes out. Before contacting our staff we recommend that you check your email and spam filter encase you might have missed us. Our staff can be reached at our Email us at kozykratom@gmail.com. A member of our helpful staff would be more than happy to talk with you anytime.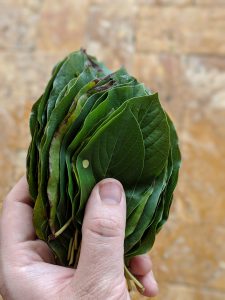 How much does fresh kratom leaf weigh?
We get this question often asking how much does Fresh Leaf American Kratom weigh? So we decided to make a short video to show you the differences. Each fresh leaf is equal to around .8 or 1.2g of dried leaf.
What happens if there is an issue with you order?
We guarantee to get to your leaf to your door healthy and green. But, sometimes things can happen. If there is ever an issue with your order please contact our team immediately. We ask that you  email us at kozykratom@gmail.com it is helpful if you also include a photo of the situation. Our helpful staff will try to respond within the hour.
Reviews
https://kratomwatchdog.com/topic/4137/this-morning-i-chewed-one-leaf
https://kratomwatchdog.com/topic/2643/fresh-leaf-customer-review
https://kratomwatchdog.com/topic/2917/received-my-first-order-and-just-wanted-to-say
https://kratomwatchdog.com/topic/4272/so-today-makes-13-days-in-the
https://kratomwatchdog.com/topic/4188/two-more-success-stories-anot
NFC Project – Help Document US Kratom (Free NFC)
The NFC Project – Our goal is to merge tech with kratom to document every single aspect of these amazing trees. We are happy to announce our kratom documentation program the "NFC Project". This projects is a step forward in providing kratom growing information to a entire community. The Kratom Bible is also available here on the #kratomAPP
On the #kratomAPP Kratom Watchdog we are working to document our kratom nursery. We upload every single interaction from our staff has with our American kratom nursery.  Tracking how much & how often we water or fertilize. As well as recording up to the minute weather conditions using weather API's.  When working with the nursery, staff will also take photos or video with the plants. Collected information is uploaded to the corresponding trees specific profile page on the Kratom Watchdog app. Organic American Kratom Leaf is available here for purchase.

3D Drone Mapping American Kratom Nursery's
Taking to the sky! Utilizing drones to document American kratom nursery's from a different angle.  We are using the drones to 3D map our kratom nursery. Applying these 3D models into our Kratom Video Game for the Kratom Watchdog app. Our goal is to map out our entire nursery and insert the nursery into the game world for users to interact with these trees. We will also be creating and implementing drone swarming API's to film and record multiple trees using multiple drones at the same time.
We will be opening up our tools and software to allow other nurseries and growers to map out their kratom nursery. Interested in having us out to document your nursery? Contact us at kozykratom@gmail.com or contact us on the Kratom Watchdog app.
The #KratomAPP
Join us on our #kratomAPP on KratomWatchDog We are a Kratom social network built from the ground up by one of the founding member of the non-profit American Kratom Association (AKA). A booming social community with a focus on kratom advocacy. You can also find us on our Facebook Group Kratom The Tree or email us at kozykratom@gmail.com We are more than happy to talk with you anytime, and share our experience. Organic American Kratom Leaf is available here for purchase.

| | |
| --- | --- |
| Weight | g |
| Leaf Count | 10 Leaf Count, 15 Leaf Count, 20 Leaf Count, 30 Leaf Count, 40 Leaf Count, 5 Leaf Count |
| Vein Color | Green Vein, Pink Vein, Red Vein, White Vein |
Are the cuttings Organic?
The mature trees are very resistant to pests, and as a result haven't required the application of any chemicals. The trees are fertilized with a fish emulsion every 3 – 4 months
How are cuttings packaged
The cutting is shipped inside of a soda container that has been split in half. This method is effective at preventing shipping damage
Do you guarantee arrival 
Yes! Every plant order is backed up with a reship guarantee. We also take a picture of your plant or cutting before shipping, and email it to you!
How long does Kratom take to root
It can take up to 3 – 4 weeks, even in optimal conditions
How often do you ship the cuttings
We ship M – W for our cuttings and plant selection. We want to ensure that your plant doesn't sit around without you.
Do you apply rooting hormone to unrooted cuttings
Yes!