William has been working for the past 4 months on our newest kratom project. We have been keeping it a secret as we work on it. We are happy to announce our newest addition to Kratom Watchdog.
Kynto! The Kratom Avatar Chat! Built by one of the founders of the American Kratom Association. This platform will be a new beginning for our nursery as it opens up new endless possibilities for creation, sharing, and social activities! Chat and hang out with your friends. Create new memories. And tap around to explore new worlds together.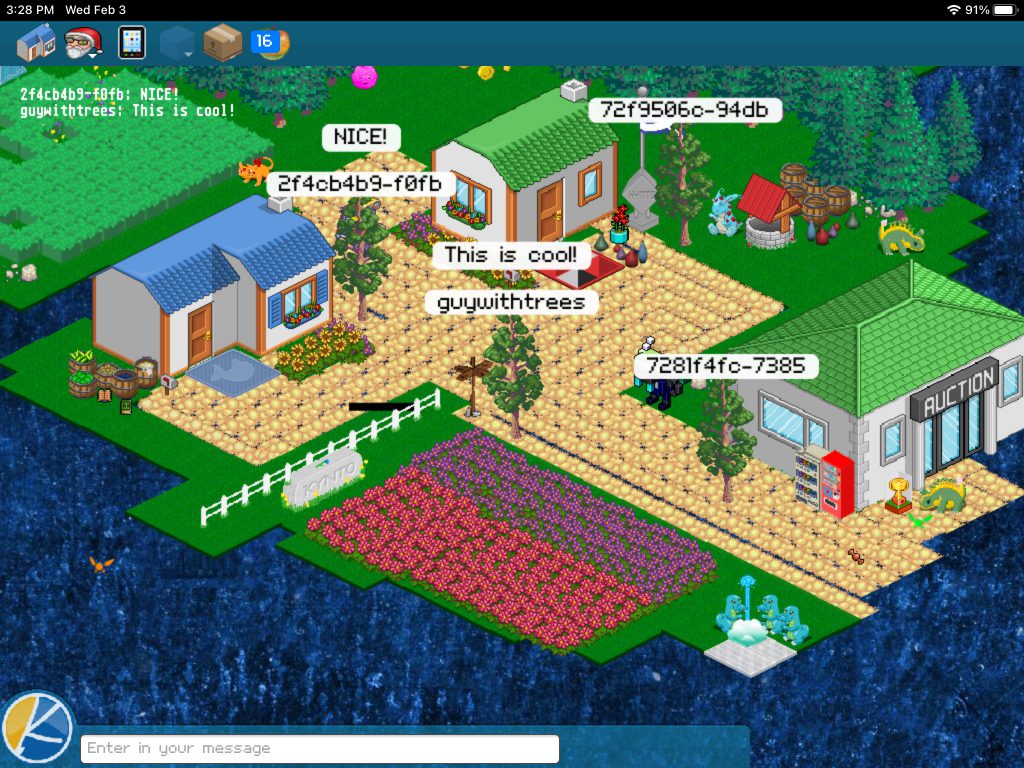 Chat with your friends!
To get started click the text box at the bottom of your screen that says "Enter in your message". To see what others are saying clicking the cellphone icon at the top of the screen.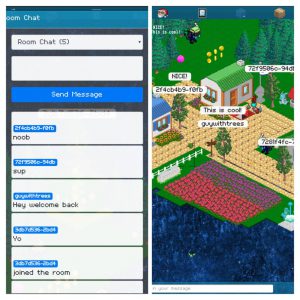 Help fund Kynto!
Consider buying us a beer!


This World is Lit!
You can set realistic fire's within the world and destroy your creations and like a phoenix, allow them to be reborn. Kynto can allow for hundreds of trees to be burnt with no actual slowdown. Each fire will combine with other near by trees and burn them down as well.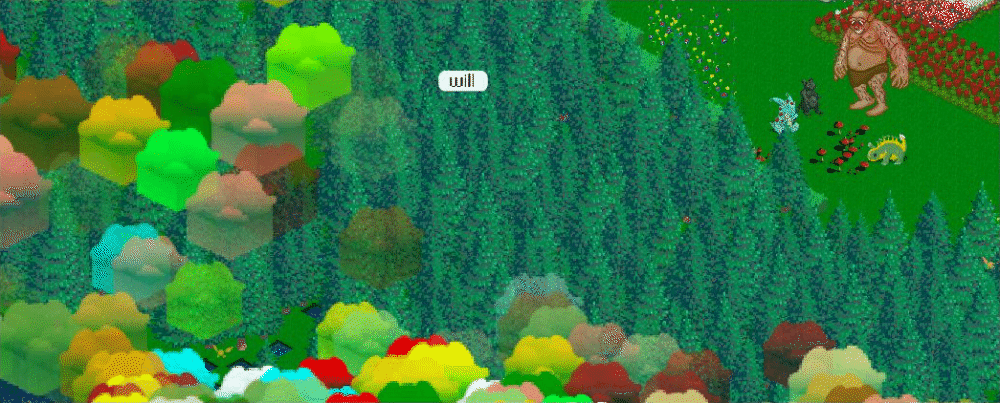 To infinity and beyond
Kynto is very unique for a avatar chat but one of it's biggest distinguishing features is it's ability for endless world creation. Most avatar chat's can only display rooms in a small 100 x 100 room basis. Where as Kynto infinite.
In this demonstration below you can see how the world looks massive on it's own but as you pull back you can see the true scope of your world.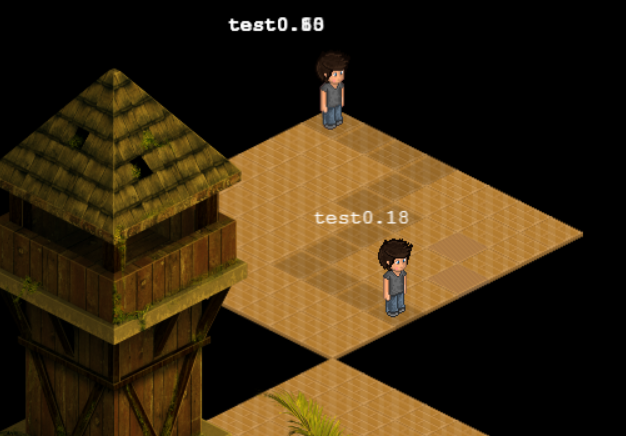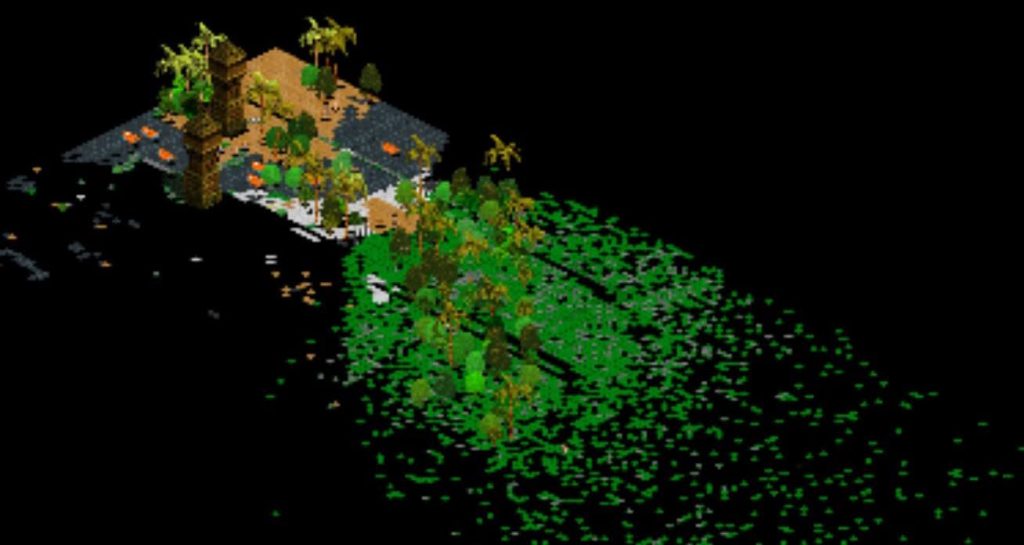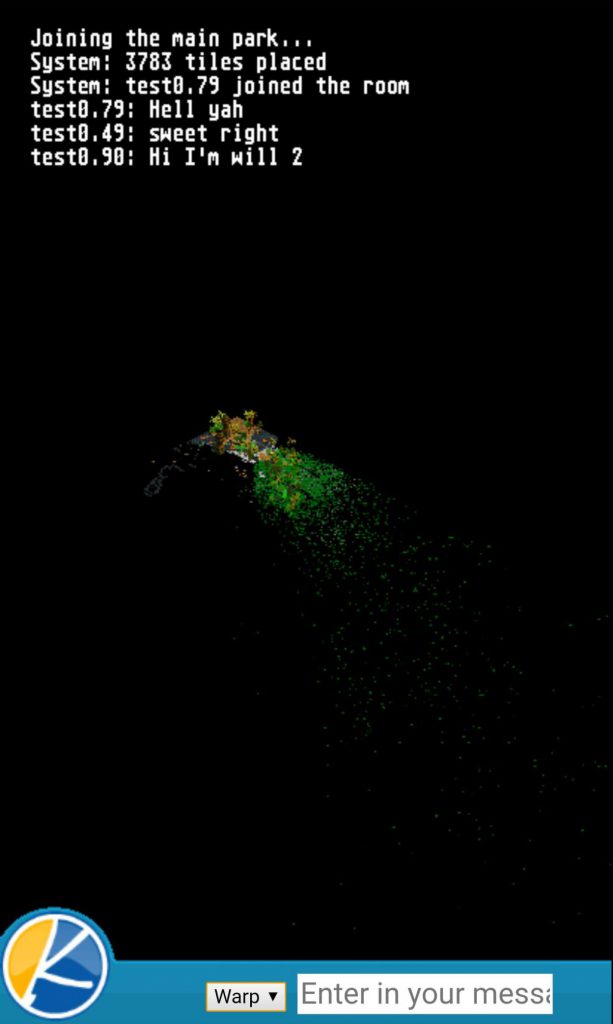 VENDOR SUPPORT
This feature is currently under construction. We are building out a system to be able to support vendors and have them be able to sell on kynto. As you can see in this example we are setting up stalls for vendors to support their products.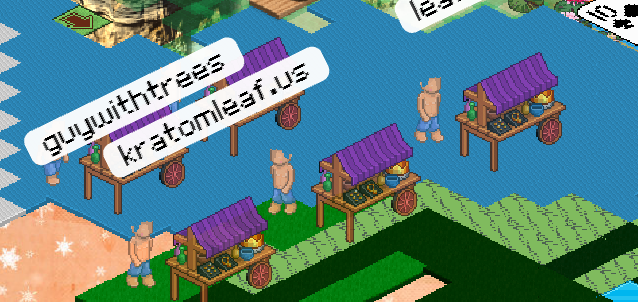 Build Your own worlds
Write custom plugins for your room!
One of our favorite features is the ability to write custom scripts for the kynto engine. In this example below when you load into the world. The world is all gray. But once you walk into a coin the world will have color.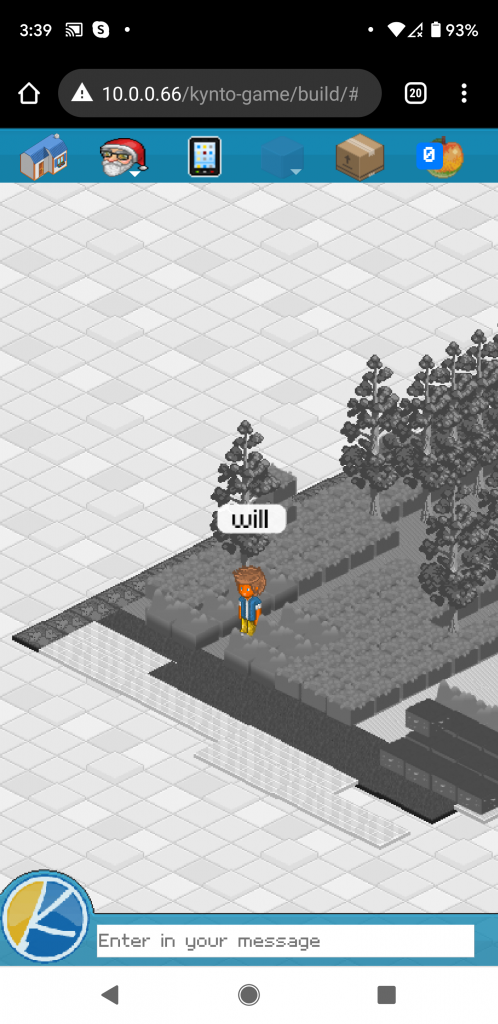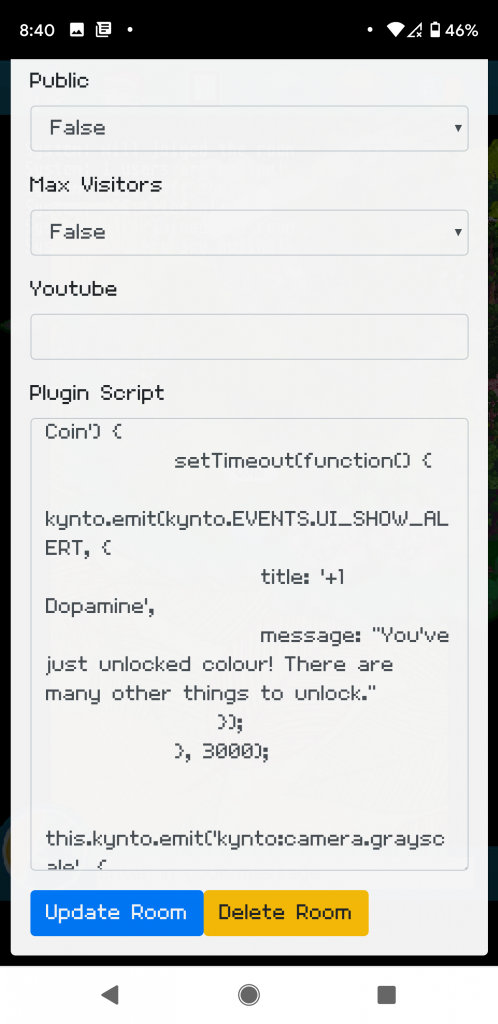 In the example below you can see a example of the custom JavaScript. This outlines the event (walking into coin) and the notification that sends to the users device.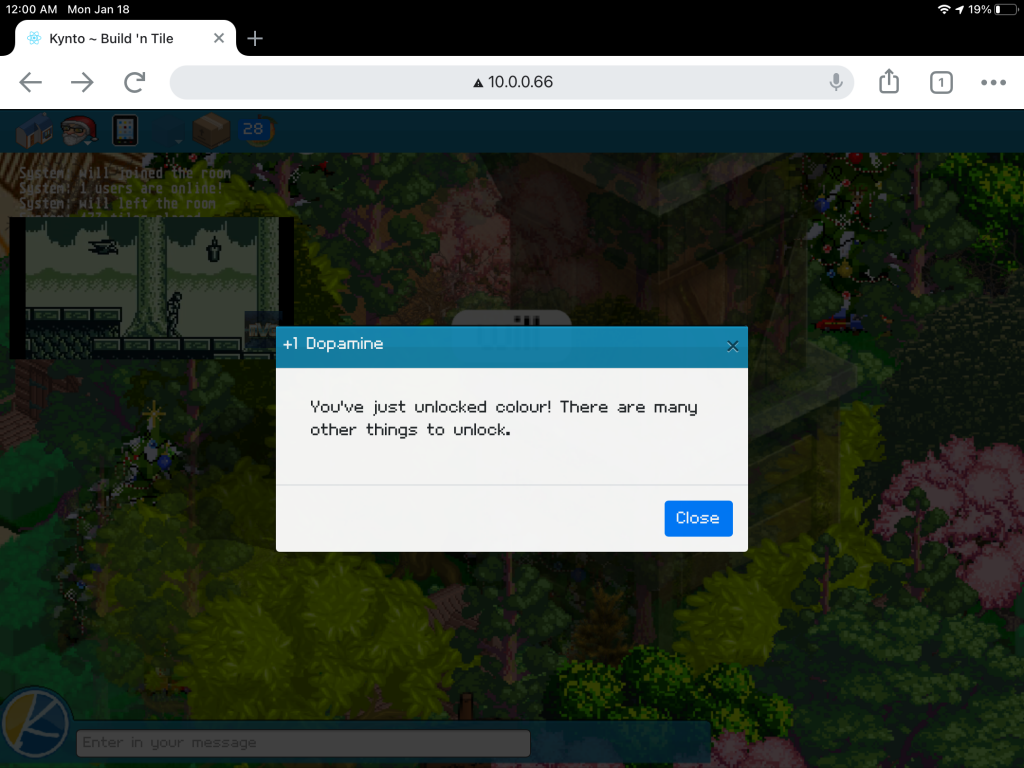 Dynamic Lighting
With dynamic lighting you can now attach light to objects and allow them to glow in a certain radius. This allows us to create day and night cycles. As well as create functional lamps. Or recreate the glow of a tv at night. Experiment with new ways to light up your life.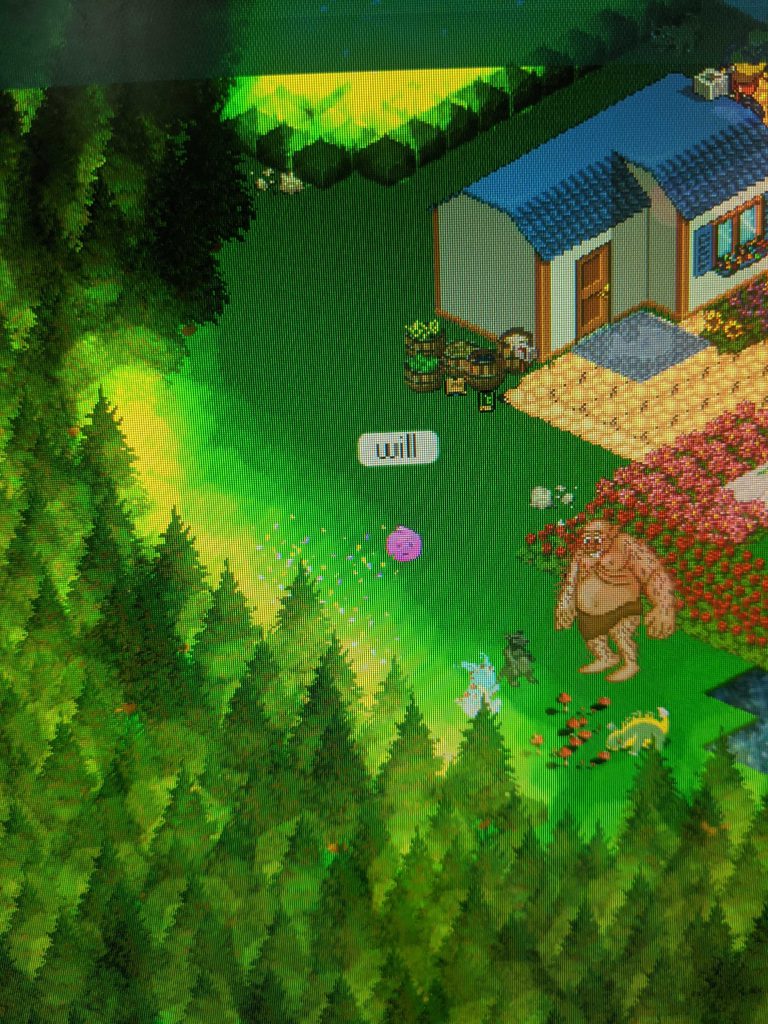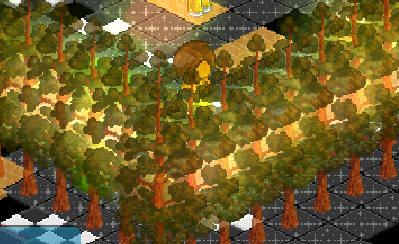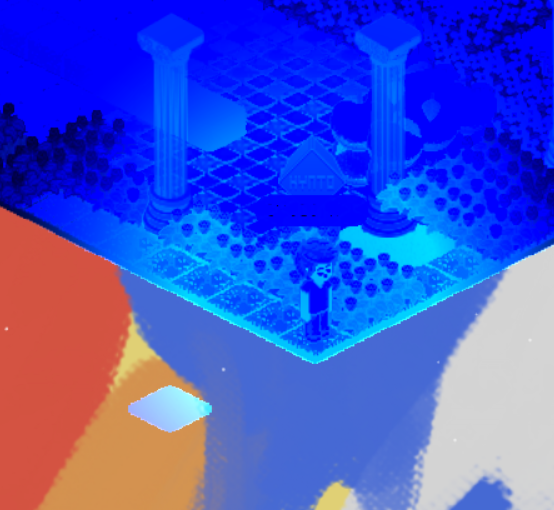 Radius Lighting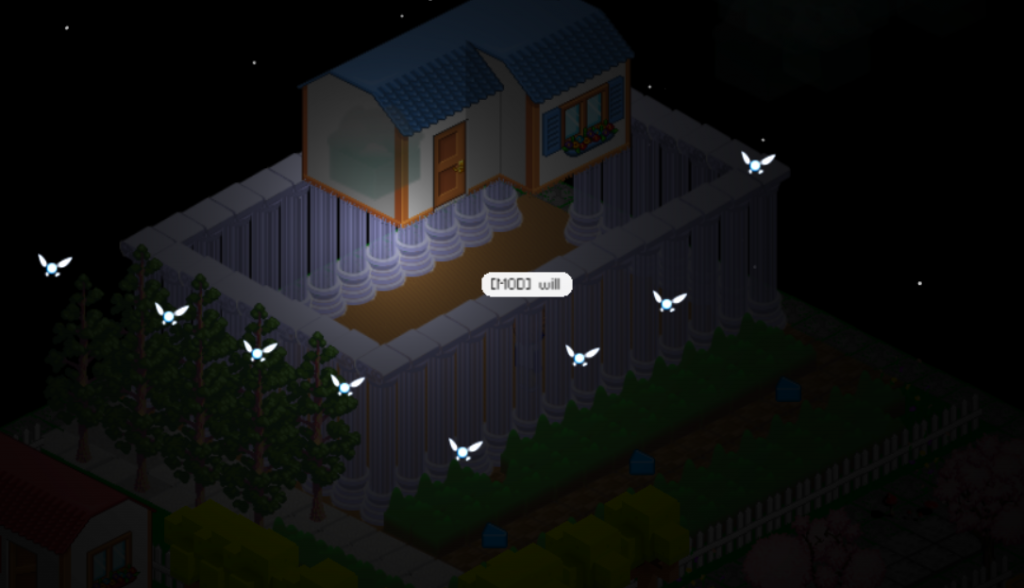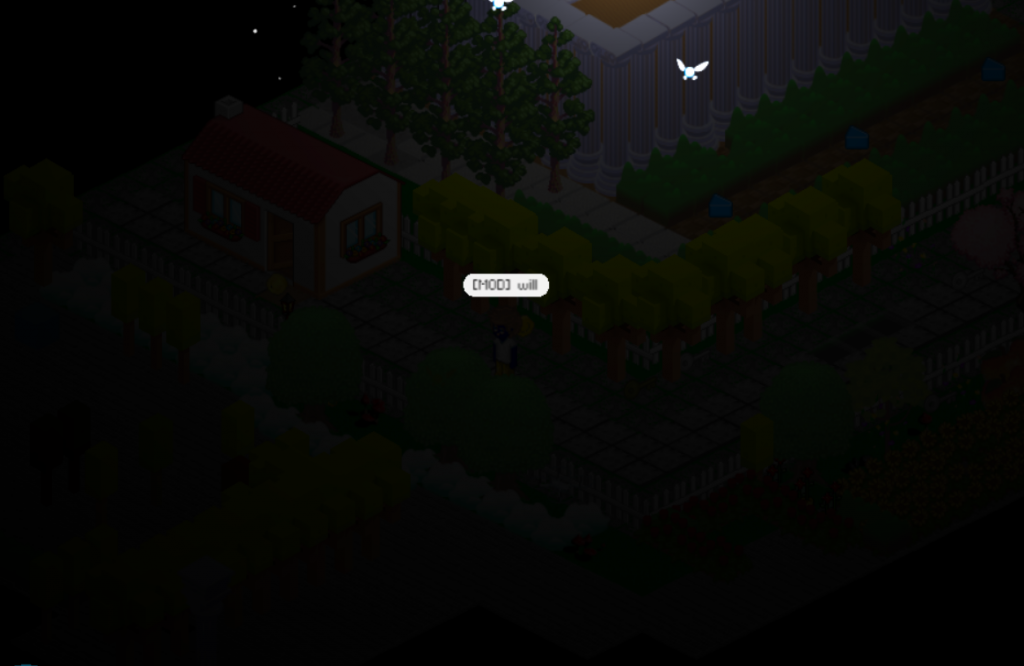 Youtube and Live Streaming!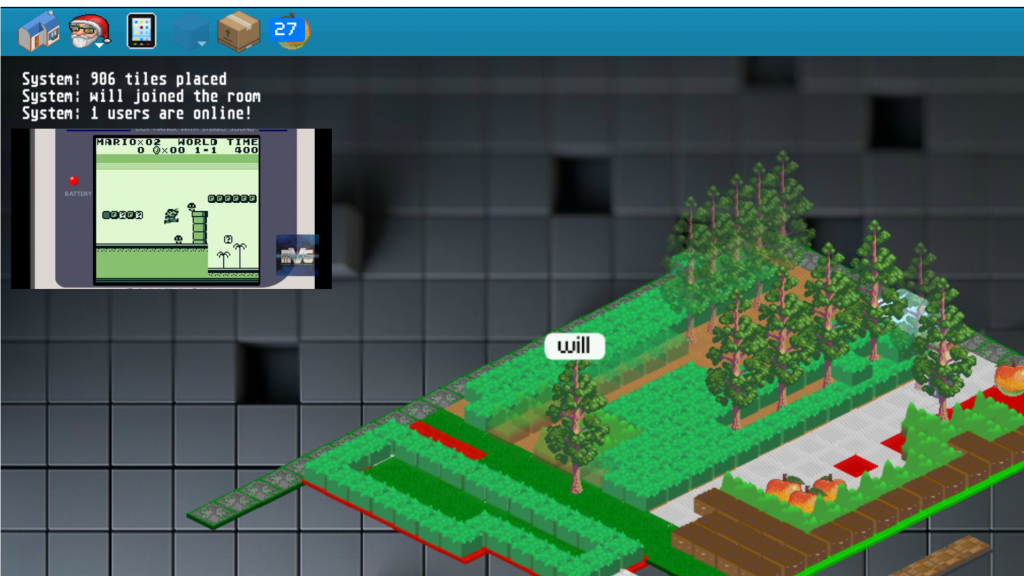 Personal Live Streams and Youtube
As a room owner, when you create a room you can set a live stream or a YouTube video for your room. This video can be played by users who hop into your room. The video will play in a picture in picture
This video can then be dragged around the screen and can be placed where ever the user finds convenient. This will helps the world feel more interactive. As well as a quick fix incase
Users can also walk around and play a video or live stream over your head.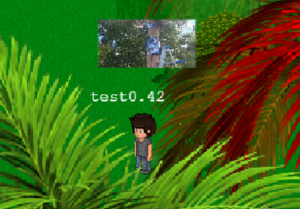 Another new update. You can now set the YouTube feed as the background.
Expansive Character Creation
We are starting out with over 1,500+ individual and unique pieces of clothing to dress your character. With more clothing options and themes coming soon. Dress your expression.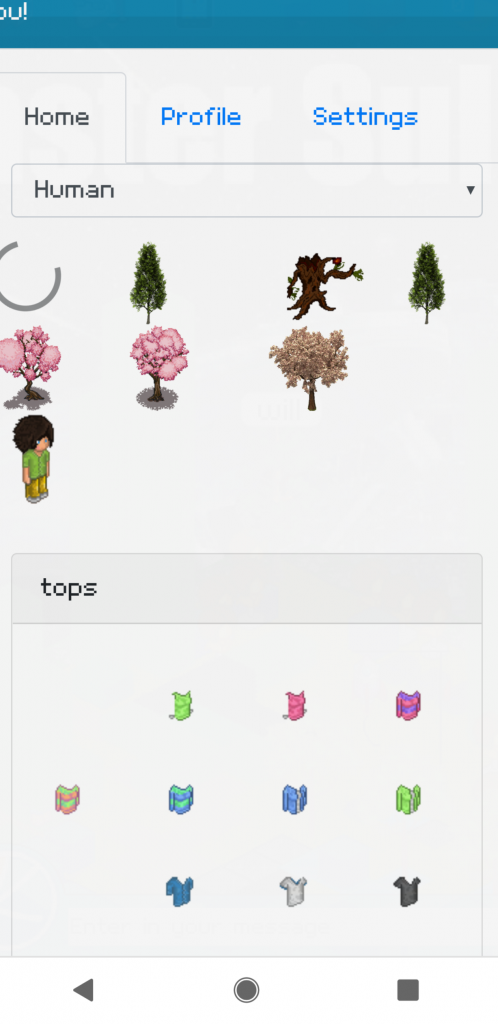 Dynamic Custom Backgrounds

Realistic Gravity & Water Physics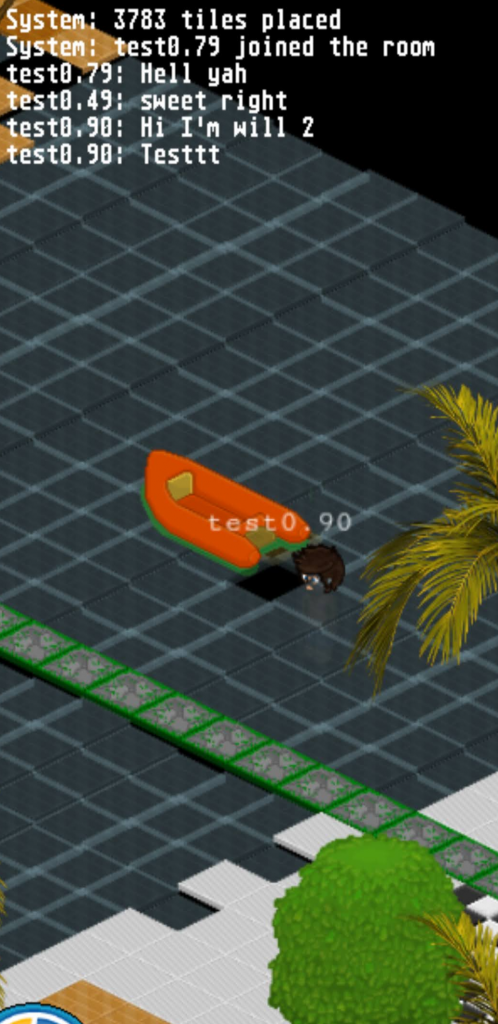 Kynto Filters
Kynto GIF creation.
You can create gif's up to 32gb in length. The average gif size is 2.4kb. In context 32gb is 32,000,000kb. Meaning you can create gif's 13,333,333 x times the size of a average gif. This can allow for Machinima and TV show creation. A good example of this is South Park, Red Vs Blue, and Code Monkeys.
Express Yourself!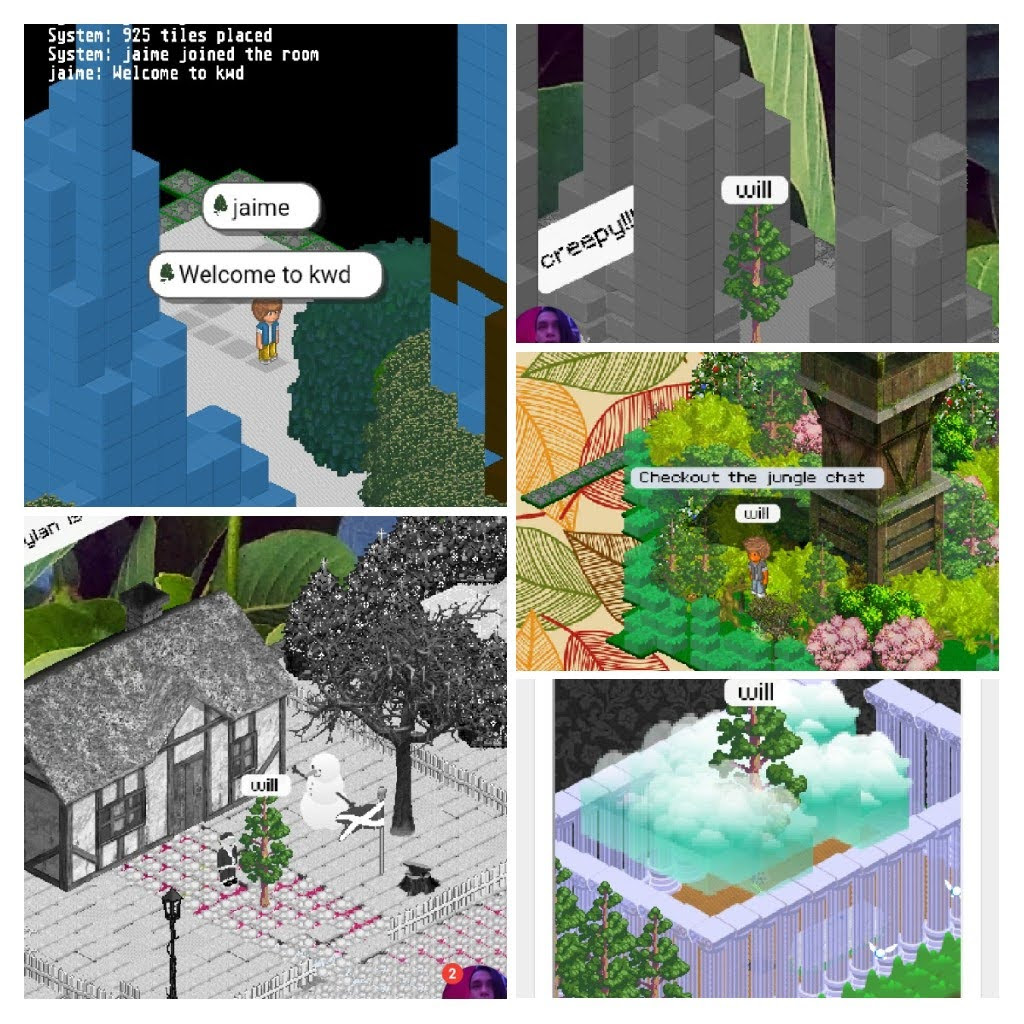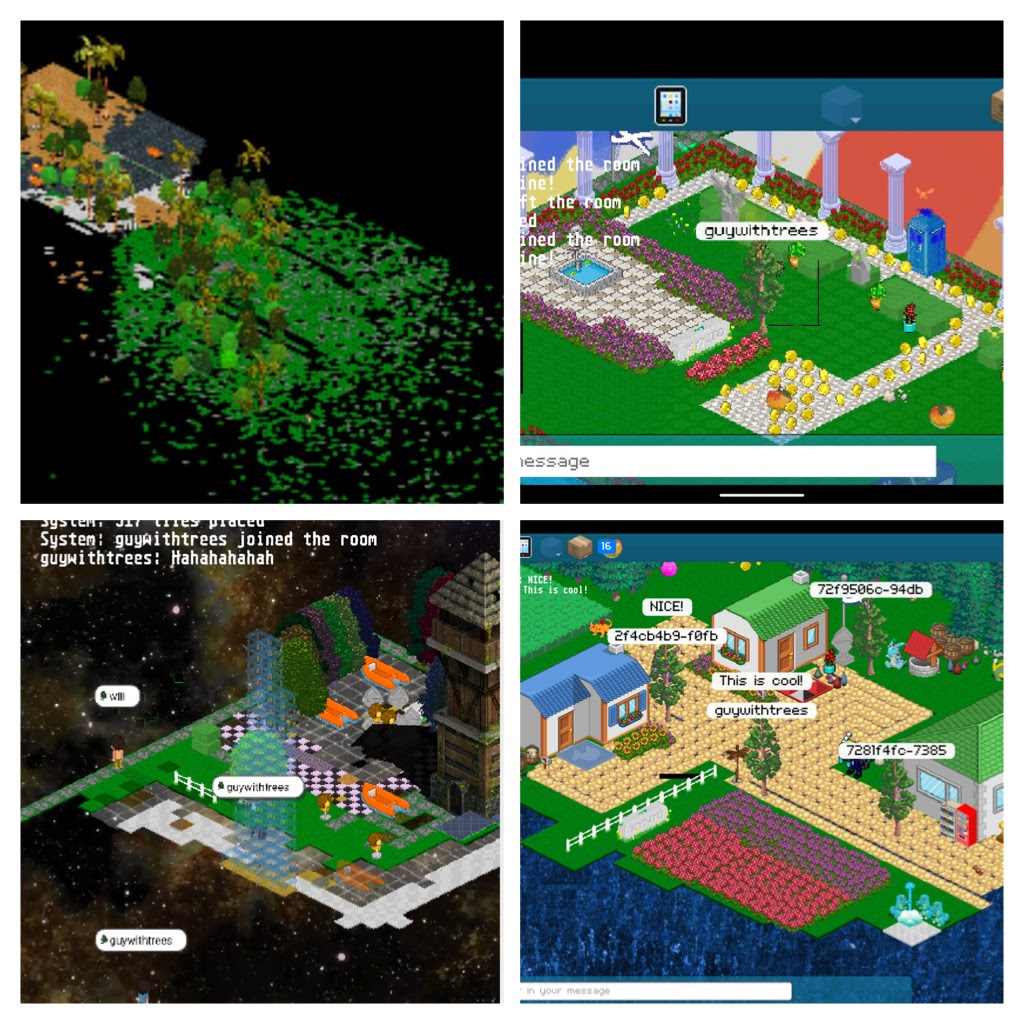 Keyboard support
Touch Support
Control all your favorite characters…. Just by touching them. 😉
Analog Support
Mouse Support
Stylus support
Devices
Android Support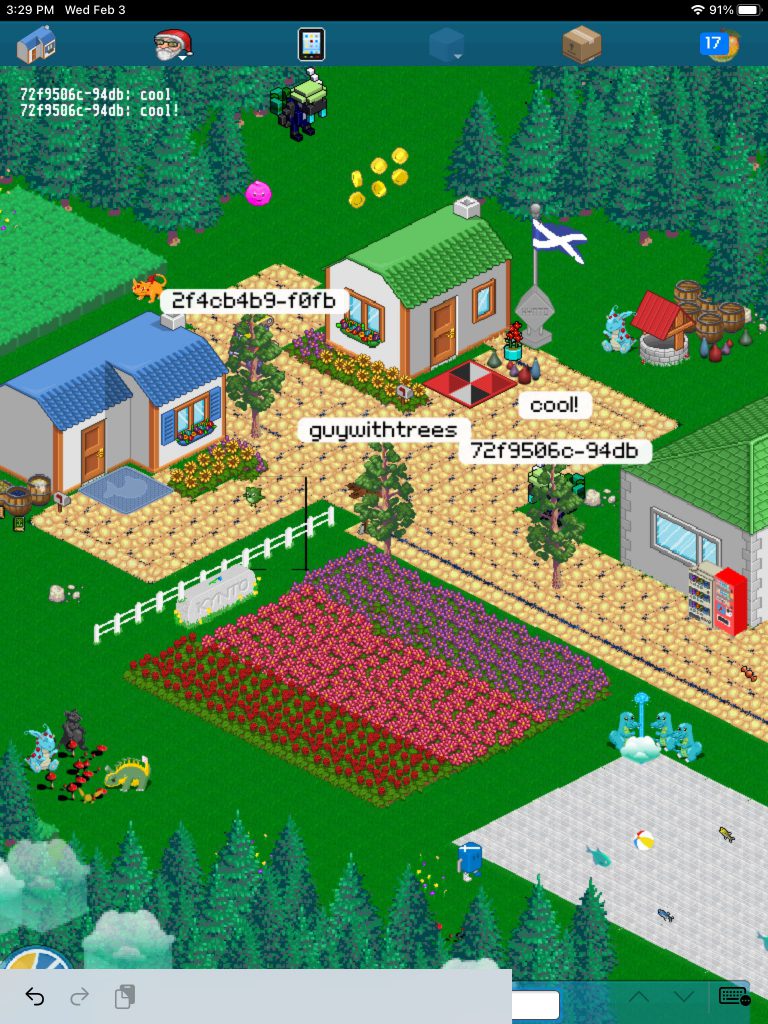 IOS
Chrome Extension
WordPress
Retroid Pocket 2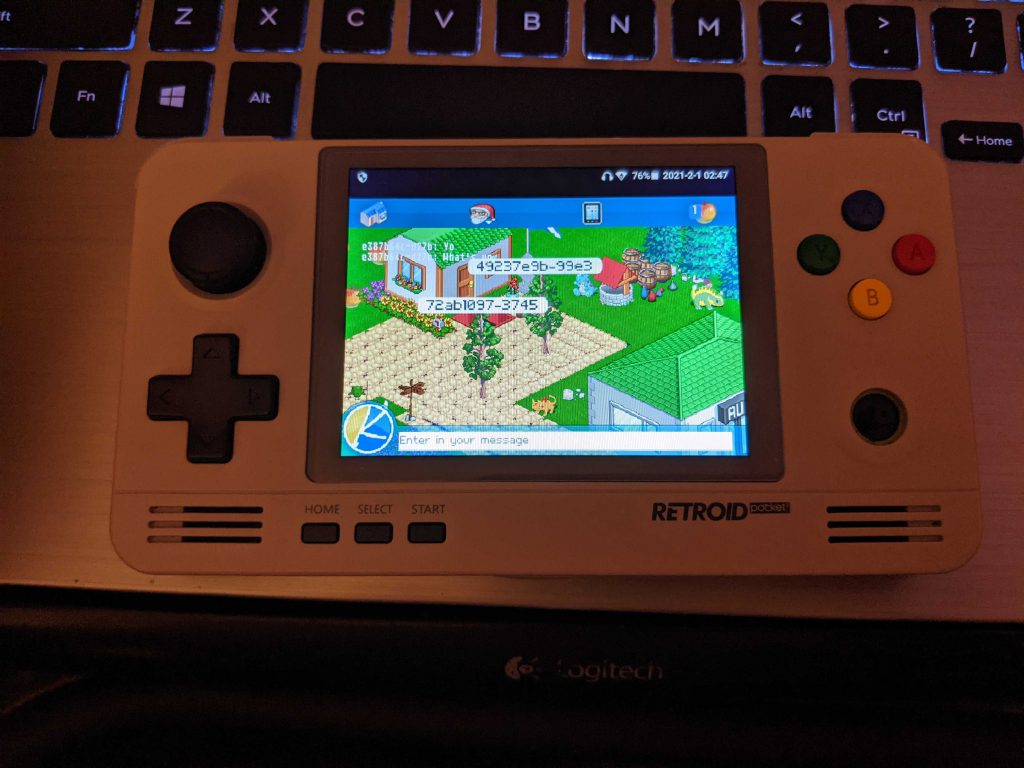 Windows Store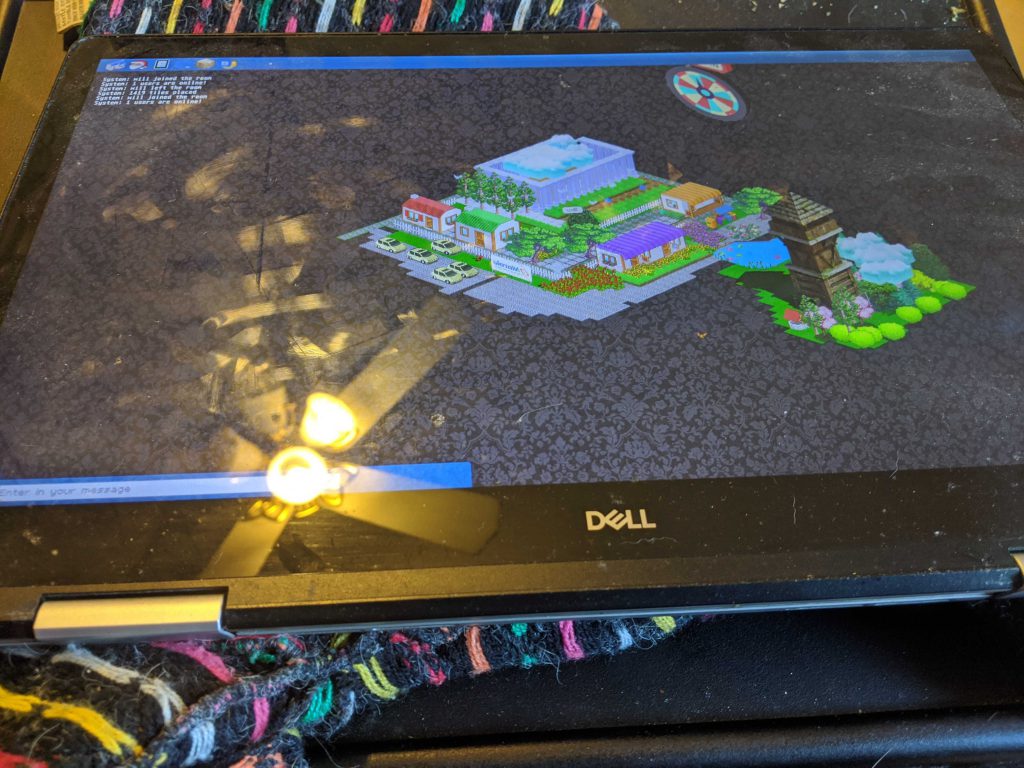 Windows 10

Steam
GOG
Playstation 4
Playstation 5
Comador 64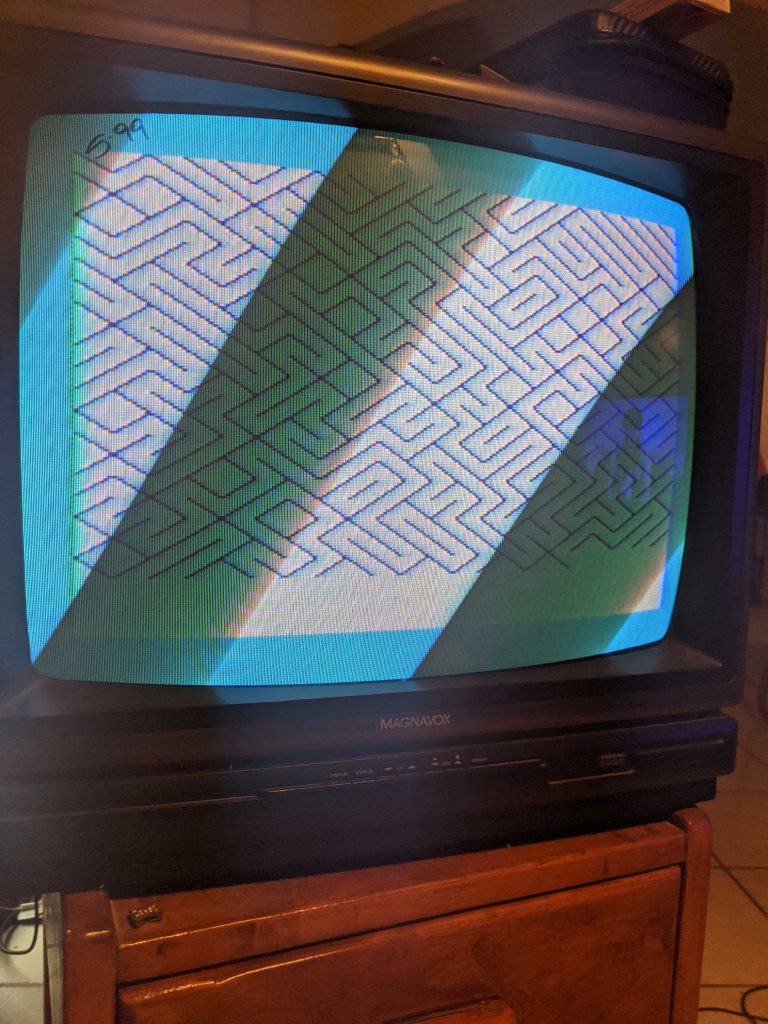 Facebook Games
Xbox Series X
Emulation